For Livingroom, the award-winning Channel Island estate agency, philanthropy has always been a key part of its ethos and a crucial means of supporting its island homes. Founder, CEO Simon Torode explains how Livingroom plays its part in the Guernsey community.
It has always been clear to me that businesses have a responsibility to give back to their community, no matter their size or how established they are. Now that Livingroom is the first pan-Channel Island residential estate agent with an experienced team of 25 I am even more convinced in the belief that we can, and should, be giving something back.
We're proud to operate in the island and want to make a difference to the lives of our fellow residents. Since launching in 2006 Livingroom has donated more than £1m to local charitable causes, a figure we're enormously proud of.

VENDORS MAKING A DIFFERENCE
On behalf of our vendors, and in their name, Livingroom makes a donation for every home sold to a local charity or community initiative. Previously we would make that donation to any locally registered charity or initiative of the vendor's choice but in 2019 we're doing things a little differently.
The sheer number of donations we were making had become a little unwieldy (thanks to our sales team for all their great work) and we wanted to include our committed team in our charitable giving. We asked our team about causes that were important to them and whittled them down to three incredibly worthy causes – The HUB, the GSPCA and Guernsey Motor Neurone LBG.
Once a sale completes, we now ask our vendor which of the three charities they would like their donation to go to, and at the end of the year we will present each charity with a total donation from Livingroom's vendors.



QUIZZING TO MAKE A DIFFERENCE

But our philanthropic initiatives aren't just limited to donations on behalf of our vendors. Throughout 2018 we ran the Livingroom Great Parish Quiz in conjunction with Island FM, which raised money for The HUB.
We were pleased to welcome a table from The HUB at the quiz but were even more thrilled that the quiz series raised £2,000 for the charity. The HUB does an amazing job supporting Guernsey's young people and we at Livingroom are proud to have had a long association with the team there.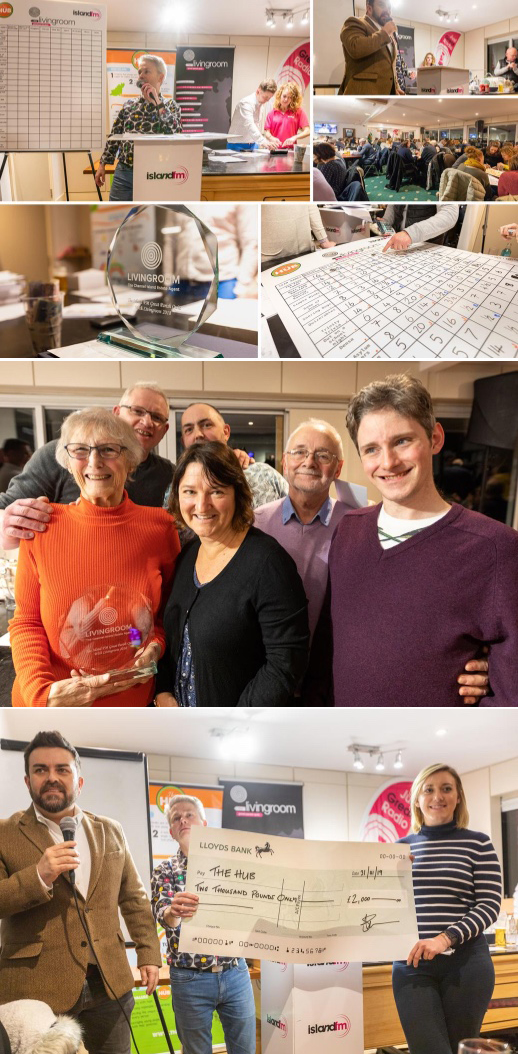 THE LIVINGROOM HOUSE LOTTERY

We gave islanders the chance to win life changing prizes in 2016 to celebrate our 10thanniversary. All 5,000 tickets, worth £150 each, were sold and the first prize was a stunning house worth £430,000.
Second prize was a brand new Mini Cooper S worth £20,000 and 10 cash prizes of £1,000 were also awarded. The total money raised by the lottery was an incredible £260,000 which was donated to Guernsey-registered charity, Hope for a Child. The Hub, Action for Children and the Saumarez Park Playground Appeal each received substantial £10,000 donations from the proceeds. The public's reaction to the lottery was incredible and we'd like to thank everyone for their generous support.